Perfume collection and perfume 101!
7:18 PM
I am someone who loves to smell good. I love smelling things that smell good, I love people that smell good, I basically just love nice smelling things. That being said, I'm bringing you a perfume collection today.

Fair warning, this is going to be a loooong post with tons of pictures.

So in case you're new to fragrances, there are many different types. Body spray, fragrance mist, eau de perfume, eau de toilette, hair mists, perfume oils, rollerballs, solid perfumes, etc. The different type of fragrance can affect its longevity, silage (which is basically the strength of a scent) and notes. Notes are the different scents in a fragrance. Every fragrance is top notes (what you first smell when it's applied), middle notes (what you smell after the fragrance has been on you for a little bit) and base notes (what you smell when the perfume is starting to wear off). Many fragrances can be layered with a corresponding line if they have one to prolong the scent (such as body wash, lotions, hand creams, etc). You can even rub Vaseline onto the area where you're going to apply fragrance to make the scent last longer. Perfumes should be sprayed onto pulse points, such as wrists, neck, chest, back of knees, elbows, basically anywhere on the body where the pulse can be felt. There are many families in perfumes, like floral, citrus, musky, woody, and anything in between.

Keep in mind, scent is a very personal matter of opinion. What you think smells heavenly someone else might hate.


I don't have very many perfumes, most of these are body sprays. A lot of beauty gurus have at least twenty perfumes, and whenever I watch those videos a part of me is like "no bitch, you and I both know you're not going to use all of those up." That being said, I have ten perfumes and body sprays. I try to cycle through all of them.
I keep my fragrances on a little shelf in between my windows because although they're on display and look really nice there, the light won't hit it directly and change the scent of the perfume faster. The back row is full of two full sized B&BW fragrance mists, and then three minis. There's an eau de toilette (Paris Amour, it smells like apples if you're wondering) that I'm going to give away, but the box is so pretty that I couldn't help putting it on the shelf. The front row are the true perfumes.
Let's start with the actual perfumes, shall we?
So the first thing at the end is not actually a perfume, but just lemon oil. I'm a sucker for lemon scented things, so whenever I need a pick-me-up I just go and have a deep whiff of the stuff. Sometimes I rub it on my pulse points as well. (Shh I'm weird I know)
Now, if you don't know, this is one of the "classic" fragrances. It's Joy by Jean Patou, the Eau de Toilette. It's crazy expensive. My
mom bought this in Paris years and years ago for muuuch less than the retail price, which, for the 1.6 oz bottle is $155. Crazy expensive. Anyways, she rarely wore it, and kept it hidden in her jewelry box (which was tucked away in her closet), so luckily the scent hasn't changed. This perfume is a very mature scent, something I would not wear unless I was going to a formal event because it's 1) so damn expensive and 2) very very fancy. It smells like jasmine and roses. It's a very simple scent, it doesn't change like a lot of other ones do, which I like a lot. I do like it, I just wouldn't normally wear it.
Top notes of Bulgarian rose, ylang-ylang, and tuberose.
Middle and base notes of jasmine from Grasse and May rose.
"Intense and luscious with alluring floral composition, JOY was created by Henri Alméras, who made its top notes irresistibly delightful. The composition starts with fragrant jilt tuberose, luscious rose, ylang-ylang blossom, aldehydes, sweet and mouthwatering pear, and green notes. The heart beats passionately in pure and sweetly fresh jasmine notes, seductive and balmy spicy and darkened iris root. The base whiffs with sensual musk, warm and milky-powdery sandalwood, with mild musky civet tones."
The next two perfumes are rollerballs, Taylor Swift's Wonderstruck (the first perfume she released) and Pacifica's Tuscan Blood Orange. I like both of these a lot. Whenever I wear these, I apply some to one wrist and rub them together, apply some to the hallows behind my ears, and on my neck. I rub those spots in with my wrists too.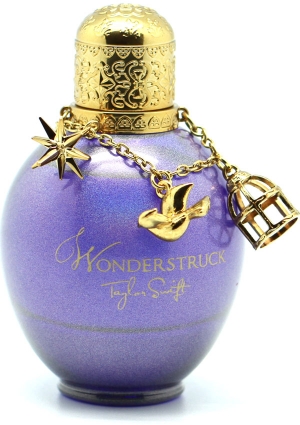 The bottle of Wonderstruck is very very cute. It's in a purple bottle, with little charms on the side. It's pretty and nice to look at. The rollerball costs $18, and the 1.7 oz bottle costs $50. It smells fruity and sweet, girly and young without being too childish. I probably wear thi
s one the most out of all my perfumes. The lasting power is okay, about three or four hours pass at school before I have to reapply.
Freesia, Green Tea, Apple Blossom, Raspberry, Dewberry.
"The fragrance composition is described as a charming gourmand – floral with sparkling fruity tones on a wooden background. The top notes are raspberry, dewberry, green tea, freesia and apple blossom. The heart features sweet vanilla along with sundrenched honeysuckle and white hibiscus. Notes of golden amber, musk, sandalwood and peach are in the base."
The next rollerball I have is Pacifica's Tuscan Blood Orange perfume, which is actually a natural perfume. I got the rollerball for $12, which is great. It smells like straight up oranges and a bit of strawberries. I like this a lot. It's fresh and uplifting. However, the lasting power is terrible! It's gone in about an hour.
Notes:
Top notes: strawberry, rasberry
Middle notes: blood orange
Base notes: mandarin orange, sweet orange
"In this delectable blend, juicy and spicy Blood Orange is offset with subtle Strawberry and Raspberry notes and grounded in fleshy Mandarin and Italian Sweet Orange. An orange connoisseur's dream. 100% vegan.

Pacifica Perfume Roll-ons are really a steal. As always, we look for ways to bring our customers value without skimping on quality. These contain our best-selling fragrances in natural grain alcohol. And, they are free of phthalates, nitro-musks, benzene, and other things you don't want."
So the last true perfume I have is The Body Shop's Dreams Unlimited, which has its own line at TBS. Sorry for the stock photo, all of my pictures had a glare on the name. It retails for $26 dollars at The Body Shop, which is very affordable for a perfume. The first thing that comes to mind when I smell this is clean sheets. Now, this smells nothing like laundry, trust me, but it has a clean, refreshing scent, and I associate clean scents with clean laundry. I can't really describe it. It's very unique and different. I'm not one for classifying scents by season, but this is more of a summer scent than anything else. I enjoy this scent a lot. The lasting power is fairly good, I can still smell it on me after a whole day at school.
Top notes: orange, black current

Middle notes: iris, green pepper, red chili pepper

Base notes: virginia ceder
This exhilarating fragrance features notes of citrus, green chilli, white flowers and cedarwood. It has been created exclusively for The Body Shop by two of the world's leading perfumers.
I lied, sorry. I have on more fragrance for you. It's just a sample of Elizabeth Arden's 5th Avenue. Smells eh. Like a lighter, less jasmine version of Joy.
Whew, we're halfway through. Stay with me here.
Now, onto my fragrance mists!
All of mine are from Bath & Body Works.
I get them during the buy 3 get 3 free sales and during the semi-annual sale they have each year.

The 8 fl oz ones are $14, and the 3 fl oz ones are $6. I have Pink Chiffon, Secret Wonderland, Be Enchanted, Japanese Cherry Blossom, and Sweet Pea. I actually also have another one, not pictured, which is Sea Island Cotton. The reason why it's not here is because I actually use it on my sheets, because it smells like laundry and I don't like it as a perfume. These fragrance mists do not last very long, so I apply Vaseline to the areas where I spray them (behind my ears, and twice in the air and
immediately
walk through it).
We'll whiz through these, I promise.
Pink Chiffon - very very sweet. Sugary. I'm not one for these scents, but I do like this one a lot. It's described as an "
ultra-feminine blend of Sparkling Red Pear, Vanilla Orchid and Whipped Chiffon Musk inspired by the effortless grace and beauty of a master ballerina."
Top: Mandarin, Sparkling Red Pear, Peach Nectar, Wild Berries

Mid: Tiare Flower, Jasmine Petals, Water Lily, Apple Blossom

Dry: Coconut Milk, Vanilla Orchid, Creamy Sandalwood, Heliotrope, Chiffon Musk
Secret Wonderland - smells like berries. I love this. It's unoffensive and is described as "
a whimsical blend of luscious strawberry, frosted jasmine petals and white amber inspired by a world you never dreamed existed."
Top Notes: Luscious Strawberry, Wild Goji Berries, Ripe Raspberry

Mid Notes: Gardenia Petals, Jasmine, Peach Nectar

Dry Notes: Coconut Musk, Creamy Vanilla, Sandalwood, White Amber
Be Enchanted - this. Smells. So. Good. I love it. It's a sweet floral scent, described as "
a fresh, sparkling blend of frosted florals sweetened with sugared pomegranate, inspired by all that glitters."
Top Notes: Mouthwatering Citrus, Iced Pomegranate, Chilled Wildberries, Crystallized Passionfruit

Mid Notes: Sheer Honeysuckle, Floral Frosted Bouquet, Sugared Violet, Dewfruit, Asian Pear

Dry Notes: Whipped Vanilla, Creamy Musk, Sandalwood
Japanese Cherry Blossom - this is one of B&BW's bestselling fragrances. I actually don't like it very much, it smells like pears, and I'm not a big pear person. A "
seductive and mysterious floral scent inspired by the exotic gardens of Japan."
Top Notes: Asian Pear, Fuji Apple and Ume Plumb

Mid Notes: Japanese Cherry Blossom, Butterfly Lily, Kyoto Rose, Mimosa Petals

Dry Notes: Vanilla Rice, Imperial Amber, Silk Musk, Cinnamon Incense, Himalayan Cedarwood and creamy Sandalwood
Last, but not least, Sweet Pea. This scent is also one of B&BW's bestsellers. It's described as "
a fruity floral scent that evokes the intoxicating, floral-infused breezes of the Mediterranean," which I think is pretty much accurate. It's another sweet floral scent. I like it.
Top Notes: Sweet Pea, Watery Pear, Logan Berry, Rhubarb

Mid Notes: Cyclamen, Freesia, Raspberry

Base Note: Musk
Alright everybody, thanks for reading and getting all the way through this monster post!